WRITTEN TYCOON took stallion honours over the weekend with a dual-state stakes winning double.
It was a timely feat for the Woodside Park Stud stallion as Proven Thoroughbreds' WRITTEN TYCOON x DIVA DEE yearling filly has blossomed in the spelling paddock at Kolora Lodge. See the picture below snapped last week.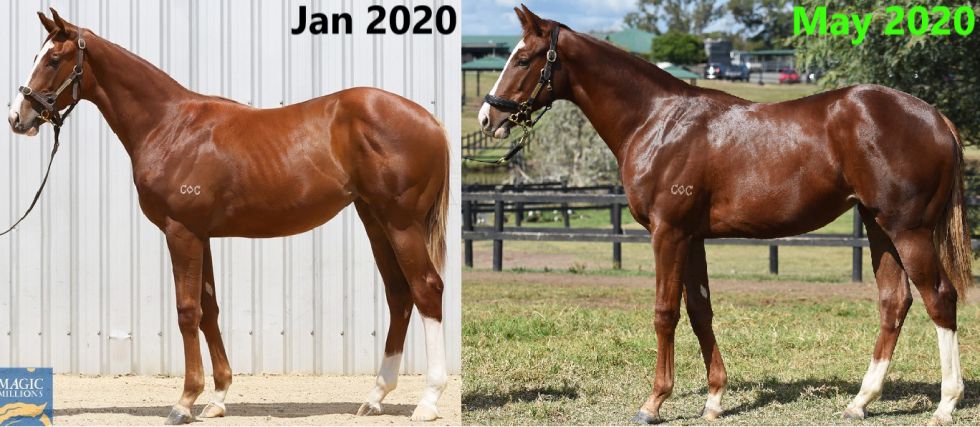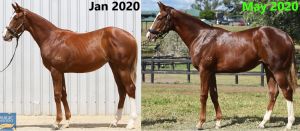 What a difference five months makes!
Shares are available in this filly from $4,318.2 + GST (2.5%). Note our new payment plan of 5 interest-free installments remains an option for prospective clients. See more information HERE.
See below for a summary of the latest feature race results and how they correlate with the pedigrees of all our 2020 yearlings.
---
SIRES
WRITTEN TYCOON
1st HIGHTAIL (Gr 3 Gold Coast Guineas 1200m)
1st DIRTY WORK (Listed Ortensia Stakes 1100m)
2nd KABINI (Gr 3 Proud Miss Stakes 1200m)
SO YOU THINK
1st REALM OF FLOWERS (Gr SA Classic 2500m)
3rd SUPER GIRL (Listed Andrew Ramsden 2800m)
EXCEED AND EXCEL
2nd SUPERARE (Gr 3 Ken Russell Memorial Classic 1200m)
SPIRIT OF BOOM
2nd TICK TOCK BOOM (Gr 3 Ken Russell Memorial Classic 1200m)
3rd SUGAR BOOM (Listed Chief De Beers Handicap 1000m)
BETTER THAN READY
2nd THE ODYSSEY (Gr 3 Gold Coast Guineas 1200m)
I AM INVINCIBLE
2nd FIESTA (Listed Silk Stocking 1200m)
EXCEED AND EXCEL
2nd AQUITAINE (Listed Denise's Joy Stakes 1100m)
---
BROODMARE SIRES
FASTNET ROCK
2nd GYTRASH (Gr 1 Goodwood 1200m)
3rd HARD ROCK GIRL (Gr 3 National Stakes 1200m)
REDOUTE'S CHOICE
1st TREKKING (Gr 1 Goodwood 1200m)
2nd KAZUHIKO (Gr 3 National Stakes 1200m)
MORE THAN READY
2nd HOLD THE LINE (Listed Chief De Beers Handicap 1000m)
3rd EXHILARATES (Gr 3 Gold Coast Guineas 1200m)
3rd READY TO PROPHET (Gr 3 Dark Jewel Classic 1400m)
ENCOSTA DE LAGO
2nd SUPERARE (Gr 3 Ken Russell Memorial Classic 1200m)
2nd INTO THE ABYSS (Gr 3 Dark Jewel Classic 1400m)
3rd JEN RULES (Listed Silk Stocking 1200m)
3rd SAMBRO (Listed Scone Cup 1600m)
RED DAZZLER
2nd TICK TOCK BOOM (Gr 3 Ken Russell Memorial Classic 1200m)
PEINTRE CELEBRE
1st CHAPEL CITY (Gr 3 RA Lee Stakes 1600m)
BEL ESPRIT
1st HUMMA HUMMA (Gr 3 Proud Miss Stakes 1600m)
STREET CRY
3rd LYRE (Gr 1 Goodwood 1200m)
LONHRO
2nd GAULOIS (Listed Wayne Wilson Handicap 1600m)
3rd PANNA COTTA (Listed Woodlands Stakes 1100m)