Trainer: Steve O'Dea & Matt Hoysted
Price:$3,545.5 + GST (2.5%) OR 5 interest-free payments of $780
Incentives:
New Payment Option
Pay off your share in 5 interest free installments! VISA & Mastercard accepted.
BOBS INCENTIVE SCHEME
> $20k bonus on each win as a 2YO & 3YO on NSW racetracks
> More than $141 million in bonuses paid out to date
> Trainer Steve O'Dea has a career winning strike rate of 31% when travelling horses to NSW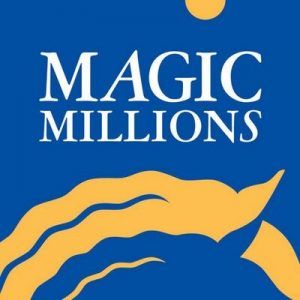 RACE SERIES
Eligible for $10.25 million Gold Coast raceday for duration of career (races programmed for 2YOs & Up from 1000m-2200m)
This filly was a neater, more attractive type than most of the Sebring progeny I've seen. She was one of my favourites from the sale.
The progress this filly made in a short time was very pleasing, she is responsive and willing with a good forward action. She is a sharp minded filly that requires a little reassurance to further develop her confidence but we have been very impressed with her progress thus far. A short break and further education will do her well.
Key factors
Closely related to Group 3 winner CHAINS OF HONOUR
LONHRO is an emerging broodmare sire and finished the 2019-20 season with the highest percentage of winners/runners & stakes winners to runners
When mated with the MORE THAN READY sire line, LONHRO mares have produced 14 winners from 17 runners (82%) including 2 stakes winners (12%)!
Breaking-in phase FEB 2020
Stable orientation MAY 2020
BROWN FILLY (AUS)

Foaled 11th September 2018

---

| | | | |
| --- | --- | --- | --- |
| Sire | More Than Ready | Southern Halo | Halo |
| SEBRING (AUS) | | Woodman's Girl | Woodman |
| 2005 | Purespeed | Flying Spur | Danehill |
| | | Lady Moulin | Luskin Star |
| Dam | Lonhro | Octagonal | Zabeel |
| SILK SLIPPERS (AUS) | | Shadea | Straight Strike |
| 2010 | Danendri | Danehill | Danzig |
| | | Stormy Exchange | Storm Bird |

---

SEBRING (AUS) (Chestnut 2005-Stud 2009). 5 wins at 2, STC Golden Slipper S., Gr.1. Sire of 914 rnrs, 622 wnrs, 64 SW, inc. Criterion (Australian Derby, Gr.1), Dissident, Egg Tart, Nettoyer, Amphitrite, Lucky Bubbles, Ringerdingding, Bring Me the Maid, Sesar, Sedanzer, Aethero, Gold Standard, Seaburge, She Brings Joy, Catch a Fire, Hattori Hanzo - Let Us Win (H.K.), Believe Yourself, Wu Gok, Ulmann, Violate, Thurlow, Our Playboy, Emeralds, etc.

1st dam

SILK SLIPPERS, by Lonhro. Winner at 1100m in Aust. Half-sister to ZINGAM, BANC DE FORTUNE (dam of EAGLE ISLAND), Zona (dam of FAINT PERFUME), Queens Plaza (dam of ROY HAD ENOUGH). This is her third foal. Her first two foals are unraced.

2nd dam

DANENDRI, by Danehill. Top filly on The 1996-97 Australasian 3YO Classification. 5 wins-1 at 2-from 1000m to 2400m, A$1,109,540, AJC Australian Oaks, Gr.1, STC Ansett Australia S., Gr.1, VRC Wakeful S., Gr.2, AJC Commissionaire H., City Tatt's RC George Negus 2YO H., 2d Australian Derby, Gr.1, VRC Oaks, Gr.1, VRC AV Kewney S., Gr.2, AJC Fernhill H., L, Geelong RC Oaks Trial S., L, 3d AJC Wiggle H., L, 4th AJC Flight S., Gr.1, VATC Underwood S., Gr.1, STC Tea Rose S., Gr.2. Three-quarter-sister to DANESTORM, CHICKENS (dam of DO YOU THINK), Danesty, half-sister to Steal My Love (dam of HATTORI HANZO - LET US WIN (H.K.), AMORINO). Dam of 13 foals, 9 to race, 8 winners, inc:-

ZINGAM (Zabeel). 7 wins from 2000m to 2400m, A$278,500, BTC Chairman's H., Gr.3, AJC Services' Memorial Cup, L, STC Lord Mayor's Cup, L, AJC Sinnjar H., 2d STC Parramatta Leagues Club H., NSW Tatt's RC Club H.

BANC DE FORTUNE (Galileo). 3 wins at 1400m, 1600m, A$189,365, AJC Aspiration H., L, McGrath Estate Agents Revenue H., 2d STC Arrowfield Stud S., Gr.1, AHA Blacktown Near West & Blue Mountains H., 3d MRC BTB Australia Directional Drilling P. Dam of-

EAGLE ISLAND (Fastnet Rock). Winner at 2, SAJC Oaklands P., L, 2d MRC Golden Fleece & Court Jester 2YO P.

Rare Fragrance. 3 wins at 1400m, 1500m, A$90,980, BRC Samsung Electronics Australia H., 2d BRC Snowdonia Airconditioning H., Gallopers $1 Membership H., MRC (Mornington) Knight FM H., 3d ATC City Tattersalls Club H., Bradford Soundscreen H.

Mean Machine. 3 wins to 1300m, QTC Capris H., 2d BTC Jacobs Creek Sparkling H.

Throng. 3 wins at 1100m, 1600m, QTC Desert Chill H., Lord Dierre H., 2d QTC Hollywood Park H., 3d BTC Denise Burton H.

Scrolls. 2 wins at 1200m, 1650m, BTC Sky Channel P.

Zona. Unplaced. Dam of-

FAINT PERFUME (Shamardal). Champion 3YO Filly in Australia in 2009-10. 5 wins-1 at 2-from 1400m to 2500m, A$1,456,290, VRC Oaks, Gr.1, STC Vinery Stud S., Gr.1, VRC AV Kewney S., Gr.2, Wakeful S., Gr.2, AJC Randwick Betting Auditorium 2YO H., 2d AJC Australian Oaks, Gr.1, 3d MRC Thousand Guineas, Gr.1. Dam of-

CHAINS OF HONOUR (Redoute's Choice). 3 wins-1 at 2-from 1600m to 2200m, A$219,555, to 2019-20, BRC Grand Prix S., Gr.3.

Good Idea (So You Think). 5 wins from 2000m to 2500m, A$295,710, to 2019-20, SAJC Hit107 P., MVRC Quest Moonee Ponds Final H., Gawler & Barossa JC Sanders Fodder H., 2d SAJC Adelaide Cup, Gr.2, VRC Rogan Josh Stayers Trophy H., MRC Hyland Race Colours H., SAJC Punt Club H., 3d VRC William Newton VC H.

Queens Plaza. Unraced. Dam of-

ROY HAD ENOUGH (Pierro). 6 wins-2 at 2-from 1600m to 2400m, R898,094, Scottsville Track & Ball Derby, Gr.3, Greyville Christmas H., L, Darley Arabian H., L, Silverline Panel Beating and Spray Painting S., Winningedgepresentations.co.au Juvenile P., 2d Greyville Michaelmas H., L, Sledgehammer H., L, Itsarush.co.za H., 3d Greyville Gold Circle Racing You Tube Channel Playlist H., 4th Vaal Victory Moon S., Gr.3, Greyville Christmas H., L.

3rd dam

Stormy Exchange, by Storm Bird. 2 wins at 7f, 1m, 3d Curragh Round Tower S., L. Three-quarter-sister to C'Yaontheotherside (dam of CHICKENS), half-sister to Shalbourne (dam of DANESTORM). Dam of 4 named foals, all winners, inc:-

DANENDRI (Danehill). 5 wins. See above.

Steal My Love. Winner at 1750m, 3d STC Forstaff Personnel 2YO H. Dam of-

HATTORI HANZO - LET US WIN (H.K.) (Sebring). 4 wins from 1400m to 1600m, A$154,800, HK$1,875,325, ATC Phar Lap S., Gr.2, MVRC Ranvet H., HKJC Maria Galland H., 2d HKJC Cherry H., Wai Yip H., Nurturing Leaders H., 3d HKJC Pak Tam Chung H., Gladiolus H., Shenzhen H., Red Packet H.

AMORINO (Snitzel). 10 wins-2 at 2-to 1500m, A$776,900, VRC TAB Rewards S., Gr.3, March S., L, MRC Anniversary Vase, L, WATC Grandstand Cup, L, Cyril Flower S., L, Bunbury S., L, 2d Pinjarra Classic, L.