Trainer: Steve O'Dea & Matt Hoysted
Price:$5,636.4 + GST (2.5%) OR 5 interest-free payments of $1,240
Incentives:
New Payment Option
Pay off your share in 5 interest free installments! VISA & Mastercard accepted.
BOBS INCENTIVE SCHEME
> $20k bonus on each win as a 2YO & 3YO on NSW racetracks
> More than $141 million in bonuses paid out to date
> Trainer Steve O'Dea has a career winning strike rate of 31% when travelling horses to NSW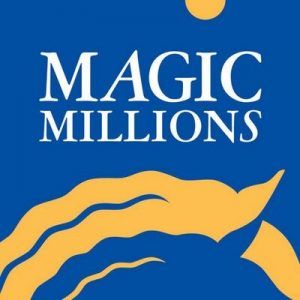 RACE SERIES
Eligible for $10.25 million Gold Coast raceday for duration of career (races programmed for 2YOs & Up from 1000m-2200m)
Forward, well balanced colt who moves well – just what you expect from a Not A Single Doubt. He's a real professional and has done nothing but improve during his first stint in the stable.
This colt's progression through his breaking has been very positive. He is quite laid back for a colt and takes everything in his stride. He is a precocious 2yo with a good brain and physique.
Key factors
NOT A SINGLE DOUBT x STREET CRY cross has been done 4 times for 2 stakes winners including 2020 Golden Slipper champion FARNAN & the O'Dea-trained DOUBT DEFYING
The most potent mating for NOT A SINGLE DOUBT is with the MR PROSPECTOR sire line e.g. FARNAN, EXTREME CHOICE, SCALES OF JUSTICE, SAMADOUBT, QUACKERJACK, DOUBT DEFYING, DUBIOUS &  GUNNISON (Note they are all colts & geldings).
NOT A SINGLE DOUBT offspring with double DANEHILL in their pedigree include stakes winners like DON'T DOUBT MAMMA, STRONGER, GUNNISON & SINGLE BULLET as well as Proven Thoroughbreds' Group 1 performer GOTTA KISS.
Breaking-in phase JAN 2020
Stable orientation APR 2020
BAY COLT (AUS)

Foaled 4th August 2018

---

| | | | |
| --- | --- | --- | --- |
| Sire | Redoute's Choice | Danehill | Danzig |
| NOT A SINGLE DOUBT (AUS) | | Shantha's Choice | Canny Lad |
| 2001 | Singles Bar | Rory's Jester | Crown Jester |
| | | Easy Date | Grand Chaudiere |
| Dam | Street Cry | Machiavellian | Mr. Prospector |
| DESCENT (AUS) | | Helen Street | Troy |
| 2013 | Downhill Racer | Danehill Dancer | Danehill |
| | | Trick Ski | Rory's Jester |

---

NOT A SINGLE DOUBT (AUS) (Bay 2001-Stud 2005). 4 wins-3 at 2, AJC Canonbury S., L. Leading Sire of 3YOs in Aust. in 2015-16. Sire of 951 rnrs, 687 wnrs, 74 SW, inc. Farnan (ATC Golden Slipper S., Gr.1), Kenedna, Scales of Justice, Miracles of Life, Extreme Choice, Shout the Bar, Secret Agenda, Southern Legend, Single Gaze, Qafila, Samadoubt, Clearly Innocent, Mighty Boss, Good Project, Not an Option, Don't Doubt Mamma, Fell Swoop, etc.

1st dam

DESCENT, by Street Cry. Unraced. This is her first foal.

2nd dam

DOWNHILL RACER, by Danehill Dancer. 2 wins at 2, A$142,540, STC Magic Night S., Gr.2, MRC Andelosia 2YO P., 2d VRC Seppelt Wines Sprint H., L. Dam of 5 foals, 3 to race, all winners, inc:-

Slalom. 4 wins from 1700m to 2100m, A$77,294, TTC Tradies & Ladies H., 2d TTC Relay for Life H.

Leogang. 3 wins at 1000m, 1100m, A$107,085, 3d ATC Syngenta Velista H.

Bousquet. 3 wins at 1000m, 1200m in Aust.

3rd dam

TRICK SKI, by Rory's Jester. Unraced. Three-quarter-sister to LIVELIHOOD (dam of LIVING SPIRIT, ONLY SHE CAN), half-sister to SCHUBERT, Abonnement (dam of GONSKI, RECAST), Alpine Spirit (dam of PINEZERO). Dam of 8 foals, 7 to race, 4 winners, inc:-

DOWNHILL RACER (Danehill Dancer). 2 wins. See above.

Pride of China - Mega (H.K.). Winner at 1350m in Aust, 2d HKJC Swan H., 3d HKJC Murray H.

Desert Fairy. 4 wins to 1200m in Aust. Dam of-

Our Vidia. 3 wins-1 at 2-at 1000m, 1100m, A$117,390, MVRC Ranvet 2YO P., 3d VRC National Hall of Fame H., MVRC Opus Group Tour of Victoria Sprint Final H., Adapt Australia H.

Spurski. 3 wins at 1000m, 1200m in Aust.

Backpacker Express. Raced once. Dam of-

Ain't She Lovely. Winner at 2 in 2020-21, Ipswich TC Follow at Ipswichturfclub 2YO P.

4th dam

ROSSIGNOL, by Bluebird. 2 wins-1 at 2-at 1000m, 1300m, VATC Elsternwick H., SAJC Lockleys H., 2d SAJC Malaysia Airlines H. Three-quarter-sister to Sorority (dam of HAPPY GIGGLE), half-sister to IDOL WORSHIP (dam of CULT FIGURE), Sisterhood (dam of LIVELIHOOD). Dam of 11 foals, 7 to race, 5 winners, inc:-

SCHUBERT (Salieri). 6 wins-1 at 2-from 1000m to 1600m, A$417,750, HK$4,596,662, MVRC Bill Stutt S., Gr.2, VRC Talindert H., L, VATC Vain S., L, HKJC Chinese Club Challenge Cup, L, Sprint Trial Trophy, Together Cup, 2d VATC Caulfield Guineas, Gr.1, SAJC Dermody S., Gr.3, 3d VRC Ascot Vale S., Gr.2, MVRC Alister Clark S., Gr.2, VATC Zeditave S., L, HKJC Sha Tin Futurity Trophy, L, Hong Kong Classic Trial, L, Lantau Island H., Country Club H., Arsenal H., Cheung Chau H., 4th VATC Blue Diamond S., Gr.1, HKJC Chairman's Prize, L, Happy Valley Trophy, L.

Abonnement. Unraced. Dam of-

RECAST (Thunder Gulch). Champion 3YO in Singapore/Malaysia in 2004. Champion Older Male Miler in Singapore in 2008. 11 wins-2 at 2-from 1200m to 2200m, A$30,550, S$2,353,415, 12,144Dhs, Singapore TC 3YO Challenge (1st Leg), L, Singapore Guineas, L, Kranji Mile, L, EW Barker Trophy, L, Committee's Prize, L, Singapore Gold Cup, L, Kranji A S., MRC Star Shower 2YO H., Singapore TC Benchmark 97 H., Class 3 H., 2d Singapore Airlines International Cup, Gr.1, Singapore TC Jumbo Jet Trophy, L, Shin Min Cup, 3d Singapore TC Patrons' Bowl, L, Three Rings Trophy, L, Kranji A S.-twice, Open H.-twice, Huang Prosperity Trophy, 4th Singapore TC Raffles Cup, L, Committee's Prize, L, Singapore Derby Trial, L. Sire.

GONSKI (Danehill). 2 wins-1 at 2-at 1100m, 1400m, A$185,630, VRC Poseidon S., L, STC Erect Safe Scaffolding 2YO H., 2d STC Heritage S., L, 3d MRC WJ Adams S., L, 4th MRC Caulfield Guineas, Gr.1. Sire.

Alpine Spirit. Unraced. Dam of-

PINEZERO (Danzero). 4 wins-1 at 2-to 1200m, A$299,950, MVRC Silver Jubilee S., L, MRC Quezette S., L, Express Class H., Johns' Hope H., 2d MVRC Woodstock Classic Oaks, Gr.2, MRC Tranquil Star S., Gr.3, Martha Cove Cup H., 4th VRC Thoroughbred Breeders S., Gr.3, MVRC Champagne S., Gr.3. Producer.

Wealthy (Danehill). 7 wins at 1400m, 1600m, HK$5,437,500, HKJC Lek Yuen H., Makarpura Star H., Audemars Piguet Lady Royal Oak H., Pok Oi Cup H., HKU Alumni Association Challenge Cup, Norfolk H., Palm H., 2d HKJC Changchun H., Sa Sa Ladies' Purse H., Caroline Hill H., 3d HKJC Centenary Vase, L, Co-Tack H., 4th HKJC Cathay Pacific International Mile Trial, L.