Price:$2,500 + GST (2.5%) OR 5 interest-free payments of $550
Incentives:
New Payment Option
Pay off your share in 5 interest free installments! VISA & Mastercard accepted.
QTIS INCENTIVE SCHEME
> Earn up to $80k for winning a Saturday metropolitan race (equivalent to Group 3 prizemoney)
> Receive up to $100k in bonuses on black type wins
> More than $2.5 million worth of prizemoney in races exclusive to QTIS horses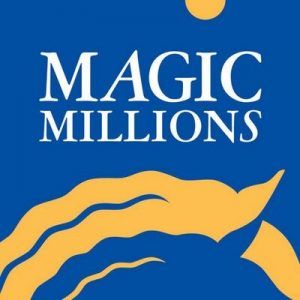 RACE SERIES
Eligible for $10.25 million Gold Coast raceday for duration of career (races programmed for 2YOs & Up from 1000m-2200m)
I have a good opinion of this colt's full sister, and there is probably more Better Than Ready about him. And there is certainly nothing wrong with that!
A smart athletic colt with a very amicable personality. He has come through his breaking preparation with straight forward mannerisms and a willingness to learn. We are very happy with what this colt has shown us thus far.
Key factors
Full brother to Proven-raced 3yo filly BETTER GET SET (two-time winner, including Brisbane midweek metro victory)
By 2018-19 champion first season sire BETTER THAN READY and 2019-20 runner-up second season sire (behind only the prolific DEEP FIELD)
FASTNET ROCK is the broodmare sire of Group 1 winners SANTA ANA LANE & GYTRASH
2YO winners from first two crops:
| | | | | |
| --- | --- | --- | --- | --- |
| | YEAR 1 | CROP 1 | CROP 2 | TOTAL |
| BETTER THAN READY | 2019 | 23 | 17 | 40 |
| DEEP FIELD | 2019 | 21 | 16 | 37 |
| I AM INVINCIBLE | 2014 | 15 | 20 | 35 |
| EXCEED AND EXCEL | 2008 | 13 | 19 | 32 |
| SPIRIT OF BOOM | 2018 | 18 | 12 | 30 |
| ALL TOO HARD | 2017 | 10 | 13 | 23 |
| SNITZEL | 2010 | 10 | 12 | 22 |
| RUBICK | 2019 | 15 | 6 | 21 |
| FASTNET ROCK | 2009 | 12 | 8 | 20 |
BETTER THAN READY breaks NORTHERN METEOR'S 1200m Randwick track record
Full-sister BETTER GET SET breaks maiden impressively OCT 2020
BAY COLT (AUS)

Foaled 22nd October 2018

---

| | | | |
| --- | --- | --- | --- |
| Sire | More Than Ready | Southern Halo | Halo |
| BETTER THAN READY (AUS) | | Woodman's Girl | Woodman |
| 2009 | Sally's World | Agnes World | Danzig |
| | | Sally Magic | Keltrice |
| Dam | Fastnet Rock | Danehill | Danzig |
| RIDOLFI (AUS) | | Piccadilly Circus | Royal Academy |
| 2010 | La Italia | Stravinsky | Nureyev |
| | | Capote Crossing | Capote |

---

BETTER THAN READY (AUS) (Bay or Brown 2009-Stud 2015). 8 wins-1 at 2, ATC Brian Crowley S., L. Sire of 152 rnrs, 84 wnrs, inc. SW Better Reflection (BRC Calaway Gal S., L), Jagged Edge, The Odyssey, SP Iced and of Apache Chase, Better Than Best, Paredo, Betaima, Girls are Ready, Golly Hutt, Raging Pole, Ready to Roam, Well Prepared, Xanthus, Already Blessed, Better Get Set, Eelloh, Ready for Magic, Ready to Bolt - Super Win Dragon (H.K.), etc.

1st dam

RIDOLFI, by Fastnet Rock. Raced twice. This is her second live foal. Dam of one foal to race-

Better Get Set (f. by Better Than Ready). 2 wins at 1000m, 1200m in 2020-21, Ipswich TC TAB Live Sky Racing H., 3d BRC TAB Create Your Calendar H.

2nd dam

LA ITALIA, by Stravinsky. Joint second filly on The 2005-06 NZ 2YO Free H. 3 wins at 2, NZ$355,375, WRC Wakefield Challenge S., Gr.2, Waikato RC New Zealand Bloodstock Classique, RL, CJC Riccarton Park Function Centre 2YO S., 2d Otago RC Vet Equine 2YO Trophy, 3d ARC Diamond S., Gr.1, Hawkes Bay Highview S., Gr.3, 4th Matamata Breeders' S., Gr.2. Dam of 5 foals, all raced, 4 winners, inc:-

Bond Elegance. 3 wins at 1200m, HK$3,238,910, HKJC Kam Tin River H., Gloucester H., Kowloon Park H., 2d HKJC Hap Mun Bay H., Jasper H., Kyoto H., Carnarvon H., 3d HKJC Middle H., Kalanchoe H., Repulse Bay H., Tin Ha Shan H.

Minetti. Winner at 1000m, 2d VRC Phar Lap Club 2YO P., MVRC Jeep 55 Second Challenge Heat 9 H., 3d MVRC Bertocchi Famous Xmas Ham H.

Mameli. Winner at 1000m in Aust.

Italian Alps. Winner at 2 in Aust. Producer.

3rd dam

CAPOTE CROSSING, by Capote. Unplaced. Half-sister to Aspen Falls (dam of IRISH LIGHTS), Deputy's Mistress (dam of SHADOWBDANCING, BACKATEM). Dam of 6 foals, 5 to race, 3 winners, inc:-

LA ITALIA (Stravinsky). 3 wins. See above.

4th dam

RIVER CROSSING, by Affirmed. Unplaced. Half-sister to FALL ASPEN (dam of FORT WOOD, HAMAS, NORTHERN ASPEN, TIMBER COUNTRY, BIANCONI, COLORADO DANCER, ELLE SEULE, MAZZACANO, PRINCE OF THIEVES), McCracken, Paintbrush, Brackish (dam of MERZOUK, PACIFIC WEST, VALSES POUR MOI), Existentialist (dam of YOUBETTERBELIEVEIT), Sweet Cielo (dam of TSURUMARU TSUYOSHI). Dam of 12 foals, 8 to race, 5 winners, inc:-

Kaimana. 2 wins at 6f, Hollywood Park Allowance. Producer.

Aspen Falls. Winner at 5½f in U.S.A. Dam of-

IRISH LIGHTS (Fastnet Rock). 3 wins from 1100m to 1600m, A$492,950, MRC Thousand Guineas, Gr.1, Thousand Guineas Prelude, Gr.3, VRC Sofitel Girls Day Out H., 2d MRC Blue Diamond Preview (f), L, 3d MRC Angus Armanasco S., Gr.2. Dam of-

OMEI SWORD (High Chaparral). 2 wins-1 at 2-at 1100m, 1200m, A$482,025, ATC Silver Shadow S., Gr.2, Peter Svendsen 2YO H., 2d ATC Golden Rose S., Gr.1, Surround S., Gr.2, Magic Night S., Gr.2, 3d ATC Golden Pendant, Gr.2.

LIPIZZANER (Uncle Mo). 2 wins at 2 in 2020, Doncaster S., L, 2d Curragh Anglesey S., Gr.3, 4th Royal Ascot Norfolk S., Gr.2, Breeders' Cup Juvenile Turf Sprint, Gr.2.

Deputy's Mistress. Unraced. Dam of-

SHADOWBDANCING (Montbrook). 15 wins-1 at 2-from 6f to 1¼m, US$1,003,530, Prairie Meadows Cornhusker H., Gr.2, Remington Park Governor's Cup, L, Mountaineer Park West Virginia Governor's S., L, Mountaineer Mile S., L, Prairie Meadows H., L, Prairie Meadows Derby, L, Fonner Park Bosselman-Gus Fonner S., L, Prairie Meadows Prairie Mile S., L, 2d Prairie Meadows Cornhusker H., Gr.2, Mountaineer Mile H., L, 3d Hoosier Park Michael G Schaefer Mile S., L, Prairie Meadows H., L, Fonner Park Bosselman-Gus Fonner S., L. Sire.

BACKATEM (Notebook). 2 wins at 2, US$89,750, Calder Three Ring S., L, 3d Calder Judy's Red Shoes S., L. Dam of-

RUNNING BOBCATS (Running Stag). 9 wins-4 at 2-to 7f, US$377,494, Tampa Bay Downs South Sophomore Fillies S., L, Calder Distaff Turf Sprint H., L, Cassidy S., L, Ema Bovary S., L, Dolly Jo S., L, 2d Calder U Can Do it H., L, Joe O'Farrell Juvenile Fillies S., L. Dam of-

ASIA EXPRESS (Henny Hughes). Champion 2YO Colt in Japan in 2013. 4 wins-3 at 2-from 1400m to 1800m, 176,336,000¥, Nakayama Asahi Hai Futurity S., Gr.1, Niigata Leopard S., Gr.3, Tokyo Oxalis Sho, 2d Nakayama Fuji TV Sho Spring S., Gr.2, Hanshin Antares S., Gr.3, Nagoya Daishoten, L, 4th Niigata BSN Sho, L. Sire.

TAKE IT LIKE A MAN (Run Away and Hide). 8 wins-1 at 2-from 5½f to 1m, US$428,158, Charles Town Researcher S., L, 2d Fair Grounds Thanksgiving H., L, 4th Fair Grounds Duncan F Kenner S., L.