Our aim is to ensure the ownership experience is at the very least enlightening and at best, THE RIDE OF YOUR LIFE!
ONGOING CORRESPONDENCE
With Proven Thoroughbreds you can expect a consistent stream of updates on your horse, from spelling to training to raceday. Raceday provides an opportunity to chat to our trainers Joe Pride, Steve O'Dea and John Bateman as well as Group 1 winning jockeys like Nash Rawiller, Corey Brown and Brenton Avdulla.
Morning report of track condition, weather, rail position and scratchings

Trainer preview in video or audio format

Form comment provided by former jockey/track work rider Kate Nipperess

Mounting yard video

Video of jockey and trainer post-race

Report on how horse recovered/pulled up
Pre-trial video of horse parading

Post-trial video of jockey and trainer summarising performance

Report on how horse recovered/pulled up
Email report in written, audio or video format at least twice weekly
Weekly email report in written, audio or video format
Proven Thoroughbreds manage all our syndicated horses for the duration of their respective careers.
Be it through email, phone or text, we pride ourselves on quality and completely transparent owner updates. If a horse is not performing or has issues that will preclude future viability, failure has to be confronted. If the horse is winning, success has to be embraced! If results are mixed, a decision has to be made.
Here are three authentic emails covering that trio of scenarios:
This Twitter post is an example of the quality of footage our owners typically receive.
All prizemoney is paid into the nominated bank account of each owner. Prizemoney earnings are tax-free if ownership remains a hobby (as opposed to a business).
The distribution of prizemoney in Australia deducts 10% for the trainer and 5% for the jockey. Depending on the jurisdiction, 1-3% of prizemoney is also allocated to equine welfare which funds the lives of retired racehorses.
In some cases, when a horse has won a considerable amount of prizemoney from a feature race, a small percentage may be allocated to the strapper, whose tireless work in preparing the horse often goes unappreciated.
Unlike other syndicators, Proven Thoroughbreds does not retain trophies. Trophy recipients are randomly selected from the ownership group on a pro-rata share basis, i.e. those with a higher share percentage are more likely to be selected than those with a lower share percentage.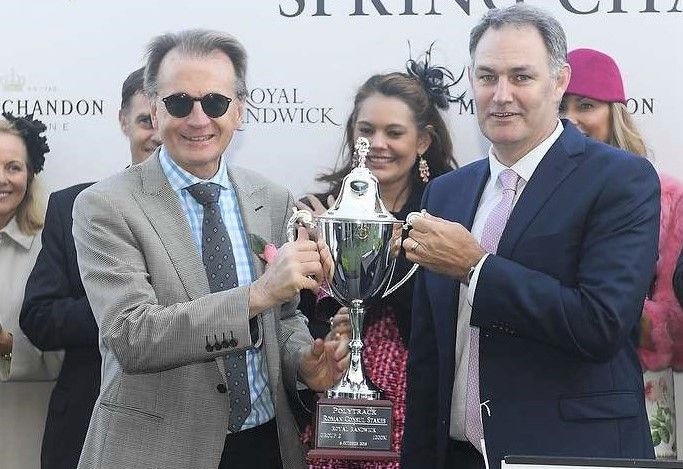 The Proven Thoroughbreds cost structure is the most competitive on the market. After purchase, the average price to maintain a racehorse is around $50-60k per annum which equates to $2.5-3k for a 5% shareholder (and even less in jurisdictions outside of Sydney). That can obviously vary according to how long the individual horse is in work, how often he or she races and whether any major veterinary work is required but will very rarely be in excess of $60k annually.
Q: So what should my weekly budget be if I want to be a rachorse owner?
A: For as little as $25 per week (2.5% shareholder) you can be a part of the ownership journey!
Logistically, our ongoing cost structure after the initial outlay works like this:
A trust account slush fund is created for each horse and all accounts are paid by Proven Thoroughbreds which saves the syndicate endless administration fees that are charged when the supplier must distribute bills to each shareholder.
Levies are requested from owners typically quarterly (approximately $600-800 for 5% shareholders) to replenish funds in the horse's account.
For total transparency, itemised invoices detailing how funds have been dispensed are supplied with every levy request.
Note these quarterly levies are designed to cover ALL ongoing costs (including management fees)
MANAGEMENT FEES
Proven's management fees represent excellent value for money:
Payment and management of all horse accounts plus a client-accessible archive of supplier invoices
Consistent communication in written, audio and video format as well as release of nominations, weights and acceptances in real time
Raceday ticketing and hosting
Access to mounting yard where you can meet with the trainers and jockeys
Arrangement of open days for clients to inspect racehorse(s) at trainer's stables or agistment properties
Management of regulatory processes with the industry body, i.e. registration of horse and colours, ownership transfers, etc.
Occasional phone calls, especially when the horse is racing
EFT, cheque or credit card (VISA & Mastercard) payment options