Price:$1,318.2 + GST (2.5%) OR 5 interest-free payments of $290
Incentives:
New Payment Option
Pay off your share in 5 interest free installments! VISA & Mastercard accepted.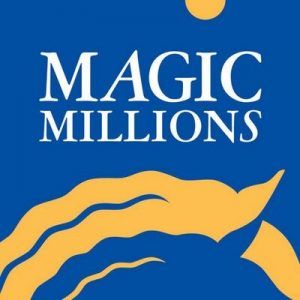 RACE SERIES
Eligible for $10.25 million Gold Coast raceday for duration of career (races programmed for 2YOs & Up from 1000m-2200m)
This filly is a lovely combination of her sire Better Than Ready and her dam sire High Chaparral. Looks a sprinter/miler type who has real quality about her.
Key factors
By 2018-19 champion first season sire BETTER THAN READY and now second only to DEEP FIELD in second season sire standings
Out of unraced HIGH CHAPARRAL mare (broodmare sire of more than 50 stakes performers)
BETTER THAN READY breaks NORTHERN METEOR's 1200m Randwick track record
Breaking-in phase APR 2020
BAY FILLY (AUS)

Foaled 5th October 2018

---

| | | | |
| --- | --- | --- | --- |
| Sire | More Than Ready | Southern Halo | Halo |
| BETTER THAN READY (AUS) | | Woodman's Girl | Woodman |
| 2009 | Sally's World | Agnes World | Danzig |
| | | Sally Magic | Keltrice |
| Dam | High Chaparral | Sadler's Wells | Northern Dancer |
| HANAAN (AUS) | | Kasora | Darshaan |
| 2012 | Chatty One | Storm Cat | Storm Bird |
| | | Phone Chatter | Phone Trick |

---

BETTER THAN READY (AUS) (Bay or Brown 2009-Stud 2015). 8 wins-1 at 2-to 1200m, $484,875, ATC Brian Crowley S., L. Out of a half-sister to SW Publishing. Sire of 107 rnrs, 51 wnrs, inc. SW Better Reflection (BRC Calaway Gal S., L), Jagged Edge, The Odyssey and of Betaima, Girls are Ready, Golly Hutt, Raging Pole, Ready to Roam, Well Prepared, Xanthus, Ready for Magic, Broncks, Cleary Adonis, Epicurious, Miss Too Fly, Nitroglycerine, etc. His oldest progeny are 3YOs.

1st dam

HANAAN, by High Chaparral. Unraced. This is her third foal. Dam of one foal to race.

2nd dam

CHATTY ONE, by Storm Cat. Unraced. Sister to CAT CHAT (dam of IN LINGERIE), half-sister to Mini Chat (dam of DIXIE CHATTER, RUMOR). Dam of 4 named foals, 2 to race, inc:-

Sport of Kings. 2 wins at 1650m, 2150m, Ipswich TC Blackall St Butcher P., 2d TTC Luxbet H.

3rd dam

PHONE CHATTER, by Phone Trick. Champion 2YO Filly in USA in 1993. 5 wins-4 at 2-from 5½f to 8½f, US$838,741, Santa Anita Oak Leaf S., Gr.1, Breeders' Cup Juvenile Fillies S., Gr.1, Del Mar Sorrento S., Gr.3, CERF S., L, 2d Del Mar Debutante S., Gr.2, Del Mar Vieille Vigne H., L, Hollywood Park Melvin Durslag S., L, 4th Santa Anita La Brea S., Gr.2. Dam of 9 foals, 5 to race, 3 winners, inc:-

CAT CHAT (Storm Cat). 3 wins-1 at 2-to 7f, Belmont Nassau County S., Gr.2, Aqueduct Allowance. Dam of-

IN LINGERIE (Empire Maker). 4 wins from 6f to 9f, US$712,265, Keeneland Spinster S., Gr.1, Pimlico Black-Eyed Susan S., Gr.2, Turfway Park Bourbonette Oaks, Gr.3, 2d Saratoga Alabama S., Gr.1, 3d Saratoga Coaching Club American Oaks, Gr.1. Producer.

Red Fantasia. Placed at 3 in Japan. Dam of-

RED BEL JOUR (Deep Impact). 2 wins at 2 in 2019, Kyoto Daily Hai Nisai S., Gr.2.

Red Belle Rose (Deep Impact). 3 wins-1 at 2-from 1600m to 2000m to 2019, 2d Sapporo Moiwayama Tokubetsu, 3d Nakayama Fairy S., Gr.3, Noel Sho, Hakodate Kamomejima Tokubetsu.

Doula. Winner at 1m in U.S.A. Dam of-

Amazing Beauty (Galileo). Winner at 10¾f, 3d Cork Noblesse S., Gr.3, Give Thanks S., Gr.3, Curragh Finale S., L, Leopardstown Trigo S., L. Dam of-

MONGOLIAN FALCON (Fastnet Rock). 3 wins-1 at 2-to 1400m, NZ$128,250, Hawke's Bay Guineas, Gr.2, Matamata RC Prima Park 2YO S., 2d Waikato RC James & Annie Sarten Memorial S., Gr.2, Matamata RC Slipper S., L, 3d ARC Coca-Cola S., Hawkes Bay El Roca Sprint H.

Humungous (Giant's Causeway). 4 wins-2 at 2-from 7f to 1¼m, Ascot Sodexo S., 2d Goodwood Totesport Mile, Sandown Mobile Betting H., 3d Windsor Midsummer S., L, Doncaster Unison Trade Union Positively Public S.

Hajaam. 6 wins from 1850m to 2400m in GB and Qatar, Lingfield Betway H.

Stormy Reply. Unraced. Dam of-

Carolina Belle. Winner at 2 in GB. Dam of-

Aalsmeer (Flower Alley). 11 wins to 6f to 2019, 3d Oak Tree Sprint S., L, Santa Rosa Jess Jackson Owners' H., L, 4th Golden Gate Albany S., L.

Mini Chat. Unraced. Dam of-

DIXIE CHATTER (Dixie Union). 4 wins-2 at 2-from 5½f to 8½f, US$464,606, Oak Tree Norfolk S., Gr.1, Santa Anita Arcadia H., Gr.2, Del Mar Oceanside S., L, 3d Santa Anita Frank E Kilroe Mile H., Gr.1, Oak Tree Derby, Gr.2, Hollywood Park Lazaro Barrera Memorial S., Gr.3, Affirmed H., Gr.3, 4th Hollywood Derby, Gr.1, Santa Anita Strub S., Gr.2. Sire.

RUMOR (Indian Charlie). 6 wins-1 at 2-at 6f, 6½f, US$418,391, Santa Anita Las Flores S., Gr.3, LA Woman S., L, Kalookan Queen H., L, Del Mar CERF S., L, 2d Hollywood Park Time to Leave S., L, 3d Del Mar Rancho Bernardo H., Gr.3, Hollywood Park Playa del Rey S., L, 4th Hollywood Park A Gleam H., Gr.2. Dam of-

Hazit (War Front). Winner at 2, 2d Gulfstream Park Roar S., L.

4th dam

PASSING MY WAY, by Pass the Glass. Unraced. Half-sister to AFIFA, ALIAS SMITH, AUCTION RING, WHOW (dam of SECOND OF JUNE), Northern Walker (dam of PASSAGERE DU SOIR). Dam of 12 foals, 7 to race, 5 winners, inc:-

PHONE CHATTER (Phone Trick). 5 wins. See above.

Miss Phone Chatter. Unplaced. Dam of-

Tower of Babble. Unraced. Dam of-

DIVINE WISDOM (Whiskey Wisdom). 5 wins from 5f to 9f, Assiniboia Downs JW Sifton S., L, 2d Assiniboia Downs Buffalo S., L, CTHS Sales S.