Trainer: Steve O'Dea & Matt Hoysted
Price:$4,590.9 + GST (2.5%) OR 5 interest-free payments of $1,010
Incentives:
New Payment Option
Pay off your share in 5 interest free installments! VISA & Mastercard accepted.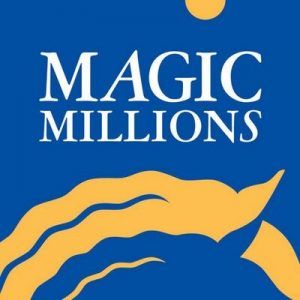 RACE SERIES
Eligible for $10.25 million Gold Coast raceday for duration of career (races programmed for 2YOs & Up from 1000m-2200m)
A strong, forward looking colt who's a great mover. He comes from a family with an elite winning strike rate.
This colt just wants to please, he's very straight forward and balanced. Although not a big horse he has a great length of stride and gives me the feel of an early 2YO. 
Key factors
ZOUSTAR is now firmly entrenched in Australia's top 10 sires with 14 stakes winners in his first three seasons led by champion filly and 3-time Group 1 winner SUNLIGHT who sold at the 2020 Magic Millions broodmare sale for a record $4.2 million
ZOUSTAR x NOT A SINGLE DOUBT cross has 14 wins & $500k+ prizemoney from only 2 starters, including stakes winner SOLAR STAR
Breaking-in phase FEB 2020
Stable orientation MAY 2020
CHESTNUT COLT (AUS)

Foaled 24th October 2018

---

| | | | |
| --- | --- | --- | --- |
| Sire | Northern Meteor | Encosta de Lago | Fairy King |
| ZOUSTAR (AUS) | | Explosive | Fappiano |
| 2010 | Zouzou | Redoute's Choice | Danehill |
| | | Meteor Mist | Star Shower |
| Dam | Not a Single Doubt | Redoute's Choice | Danehill |
| WIDOW'S WALK (AUS) | | Singles Bar | Rory's Jester |
| 2010 | Countess Dehere | Dehere | Deputy Minister |
| | | Gala Ball | Mister C |

---

ZOUSTAR (AUS) (Bay 2010-Stud 2014). 6 wins-3 at 2, VRC Coolmore Stud S., Gr.1. Leading Aust. First Season Sire in 2017-18. Sire of 179 rnrs, 108 wnrs, 13 SW, inc. Sunlight (VRC Coolmore Stud S., Gr.1), Mizzy, Lean Mean Machine, Haut Brion Her, Zousain, Zoutori, Madam Rouge, Sisstar, Sun City, Charge, Top Knight, Persuader, Zoustyle, SP Barcali, Zoubo, Tears of Jupiter, Quattro Katie, Shih Tzou and of Queen Kay, The Astrologist, Ronstar, Atame, etc.

1st dam

WIDOW'S WALK, by Not a Single Doubt. 6 wins to 1300m, BRC Wayne Wilson H., Bundaberg Distilling Company H., Powerade P., 2d Ipswich TC Ray White H., 3d BRC Brc.com.au H. This is her second foal. Her first foal is a 2YO.

2nd dam

COUNTESS DEHERE, by Dehere. 2 wins at 1000m, 1100m in Aust. Half-sister to Cointreau Ball. Dam of 8 named foals, all raced, 7 winners, inc:-

Divine Service. 9 wins-1 at 2-at 1000m, 1200m, A$340,150, to 2019-20, BRC Channel Seven 2YO H., Chris Anderson Racing H., Duporth Tavern H., SCTC Access Insulation H., 2d BRC Sky Thoroughbred Central H., Rockhampton JC Newmarket H., Ipswich TC Sirromet Wines Bundamba 2YO P., 3d Qld Tatt's RC Hardy Brothers Jewellers H., BRC Racing Retro 2YO H., Bartons H., St Vincent's Palliative H., Heat 6 Origin Jockey Series P., Gallopers Sports Club H., Weddings H.

Zendaye. 8 wins-1 at 2-to 1400m, A$112,300, to 2018-19, BRC Join Our Stable P., Brc.com.au H., Ipswich TC City of Ipswich H., 2d GCTC Backing Racing Gold Coast H., 3d BRC Girls Day Out H., Girls Day Out Raceday H.

Widow's Walk. 6 wins. See above.

Happy Chappy. 2 wins-1 at 2-at 1000m, 1200m, HKJC Queen's Road Central H., Jinyu Hutong P., 2d HKJC L'Oreal Paris H., 3d HKJC Arbuthnot P., One Country, Two Systems P.

Can She Move. 2 wins at 1200m, 1650m, BRC Powerade H. Producer.

Fortune Star. Winner at 2, 3d GCTC Langs Building Supplies 2YO H.

King's Lady. Winner at 850m in 2018-19 in Aust.

3rd dam

GALA BALL, by Mister C. 6 wins from 1200m to 1600m, A$108,104, AJC Sales Success-Promotions H., STC Canterbury Hurlstone Park RSL H., Thorn H., Rydges Cronulla Series H., 2d AJC Dawn & Greg Page H., STC Tektronix H., Nev Potter H., 3d AJC Earlwood Bardwell Park RSL H., De Bortoli Windy Peak H., STC Kyeemagh H. Half-sister to DANCING DYNAMITE, Nimble Feet, Look Lively (dam of BUMP AND RUN), Rock a Little (dam of RAZAMATAZ). Dam of 6 named foals, 5 to race, 4 winners, inc:-

Cointreau Ball (Snippets). 6 wins to 1550m, A$113,150, SAJC Christmas Twilight at Cheltenham H., Feltex H., Seppelts Fleur de Lys H., Bell Potter Securities H., MRC Flinders H., 2d SAJC Lakewood Stud H., MRC Textile H., 3d SAJC Queen Adelaide S., L, Waterford Crystal Flying H., Dunlop Flooring H., Schweppes H., Christmas Twilight at Victoria Park H.

Sonic Barrier. 6 wins from 1000m to 1600m, R298,365 in South Africa and Zimbabwe, Turffontein Racing Association H., Computaform Express H., Vaal UK Soccer H., 3d Vaal Hospitality Reservations H., 4th Borrowdale Gold Cup Sprint, L.

4th dam

WINTER'S DANCE, by Bogan Road. 8 wins at 1200m, 1400m, A$81,170, QTC Katies Cup, Gr.3, NSW Tatt's RC Tramway H., L, STC Ajax S., L, Broadway H., Churchill Downs H., Fairlight S., 2d AJC Liverpool City Cup, Gr.3, STC Frederick Clissold H., L, 3d AJC Expressway S., Gr.2, Newcastle JC Newmarket H., L, 4th AJC Doncaster H., Gr.1, STC Theo Marks H., Gr.2, Ajax S., L. Half-sister to Royal Sprite. Dam of 10 foals, 7 to race, all winners, inc:-

DANCING DYNAMITE (Yeats). 7 wins-2 at 2-at 1200m, 1400m, A$308,770, VRC Crown Casino S., Gr.3, Qld Tatt's RC Mercedes-Benz S., L, 2d AJC Stan Fox S., Gr.3, STC Skyline S., Gr.3, Gosford RC Pacesetter S., L, 3d STC Theo Marks H., Gr.2.

Nimble Feet (Zoffany). 3 wins-1 at 2-to 1550m, A$115,823, STC Group Raceday Packages H., NSW Tatt's RC RW Furber H., 3d STC Reisling Slipper Trial S., Gr.2. Dam of-

Salsify. 2 wins at 1200m, 1600m in Aust. Dam of-

SALSONIC (Hinchinbrook). 2 wins at 1300m, 1600m, A$398,450, BRC Queensland Guineas, Gr.2, 2d ATC Hyland Race Colours 2YO H., Tab.com.au P., 3d ATC Liverpool City Cup, Gr.3, Spring S., Gr.3, Hawkesbury Guineas, Gr.3, 4th BRC Lord Mayor's Cup, Gr.3.

Look Lively. 3 wins to 1400m in Aust. Dam of-

BUMP AND RUN (Kenvain). 10 wins from 1400m to 1800m, A$136,535, NSW Tatt's RC Tattersall's Club Cup, L, AJC Lord Ben H.

Rock a Little. Unraced. Dam of-

RAZAMATAZ (Prego). 10 wins to 1200m, A$188,240, SAJC Malaysia Airlines S., L, 2d SAJC DC McKay S., Gr.3.