Price:$6750 inc GST (2.5%)
Incentives:
"This filly has all the attributes I look for in a female sprinter; beautiful head and eye, powerful hindquarters and a purposeful walk."
BOBS INCENTIVE SCHEME
$22.5k bonus on each win as a 2YO & 3YO on NSW racetracks
More than $160 million in bonuses paid out to date
Dam was a two-time stakes winner as a 2YO, including defeating males in the G3 SAJC Sires' Produce Stakes (1400m). She was also runner-up in two Group races.

This filly was conceived in the season following ZOUSTAR's historic trifecta in the 2018 Coolmore Stud Stakes and therefore coincides with when breeders' confidence in the champion sire was sky-high.

Neater, more compact version than the ZOUSTAR archetype, which will give her every chance of racing as a 2YO and thus greatly enhance her broodmare value.

ZOUSTAR with DANZIG broodmare sireline = MIZZY, HAUT BRION HER, MADAME ROUGE, ZOUSAIN, GLISTENING, THE ASTROLOGIST, ZOUSTYLE, ZOUSHINE, SUN CITY, INDIAN PACIFIC, PERSUADER, ZOUZARELLA, SOLAR STAR (50% of stakes winners)

ZOUSTAR with 4m x 4m DANEHILL, the same as ZOUSTAR's Group 1 winning mare MIZZY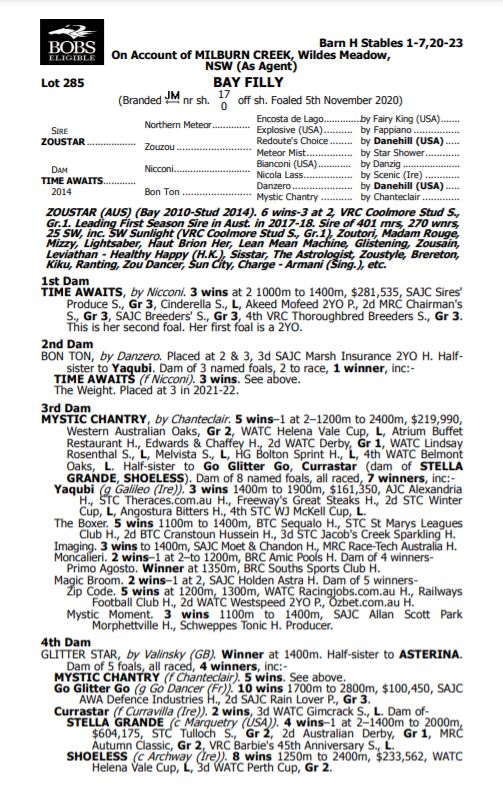 In your message please specify the horse and share percentage you are interested in.