Price:$3,272.7 + GST (2.5%) OR 5 interest-free payments of $720
Incentives:
New Payment Option
Pay off your share in 5 interest free installments! VISA & Mastercard accepted.
BOBS INCENTIVE SCHEME
> $20k bonus on each win as a 2YO & 3YO on NSW racetracks
> More than $141 million in bonuses paid out to date
> Trainer Steve O'Dea has a career winning strike rate of 31% when travelling horses to NSW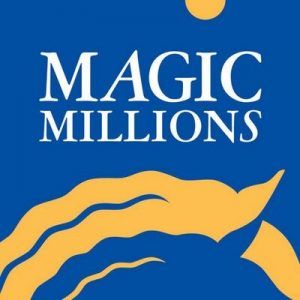 RACE SERIES
Eligible for $10.25 million Gold Coast raceday for duration of career (races programmed for 2YOs & Up from 1000m-2200m)
We were so impressed by how this colt thrived during his sales prep, he clearly loves his work. I've only heard good things about the Vancouvers too.
A strong and scopey colt who has handled the work load during his breaking in with ease. In a short time he has shown us, he is very willing with a good length of stride and covers the ground well. With further education to build his confidence, he will be an awesome one to watch.
Key factors
¾ relation ALEGRIA was raced by Godolphin and performed at stakes level from 1500m up to 2600m
VANCOUVER has made a promising start to his stud career with a trio of stakes placegetters & is expected to flourish when his first 3yos step out.
VANCOUVER's first crop was highly popular last year, averaging $190k across all sales. $110k for this colt = value
Breaking-in phase JAN 2020
BROWN COLT (AUS)

Foaled 8th August 2018

---

| | | | |
| --- | --- | --- | --- |
| Sire | Medaglia d'Oro | El Prado | Sadler's Wells |
| VANCOUVER (AUS) | | Cappucino Bay | Bailjumper |
| 2012 | Skates | Danehill | Danzig |
| | | Skating | At Talaq |
| Dam | Bernardini | A.P. Indy | Seattle Slew |
| SRETAN (AUS) | | Cara Rafaela | Quiet American |
| 2013 | Pure Joy | Fusaichi Pegasus | Mr. Prospector |
| | | Angelic Smile | Dehere |

---

VANCOUVER (AUS) (Bay 2012-Stud Aust. 2016, U.S.A. 2017). Champion 2YO Colt in Australia in 2014-15. 4 wins at 2, A$2,368,250, ATC Golden Slipper S., Gr.1, Todman S., Gr.2, Canonbury S., Gr.3, Breeders' P., L. Half-brother to SW Juste Momente (SAJC Robert Sangster S., Gr.1) and SW Captain Coltish. Sire of SP Canadian Spice, Postcode, Ticket to Ride and of Vangelic and of the placegetters Stagecoach Mary, etc. His oldest progeny are 2YOs.

1st dam

SRETAN, by Bernardini. Placed at 3 in Aust. Half-sister to Alegria. This is her first foal.

2nd dam

PURE JOY, by Fusaichi Pegasus. 2 wins at 1400m, A$172,450, VRC Vanity S., Gr.3, MRC Chiva-Som Fashion Luncheon H., 2d MRC Geoffrey Belmaine H. Half-sister to FRAVASHI. Dam of 6 named foals, all raced, 3 winners, inc:-

Alegria (Medaglia d'Oro). 3 wins to 1500m, A$381,175, ATC Schweppes H., Ladbrokes.com.au H., Perfection Landscapes Walk 4 Nathan P., 2d ATC Chairman's H., Gr.2, Aspiration H., Gr.3, Gifts.com.au H., 3d ATC Aspiration H., Gr.3, Colin Stephen H., Gr.3, City Tattersalls Club Cup, L, ATC Eremein H., Bill Gilmour Tennis Centre P., James Ruse H., TAB Rewards H., Sportsyear Diary H., 4th ATC Chairman's H., Gr.2, Epona S., Gr.3-twice.

Citations. 5 wins from 1250m to 1900m, A$243,555, ATC Ibis Milano Dinner Specials H., All Too Hard at Vinery H., Drummond Golf P., TAB Rewards H., Cellarbrations H., 2d ATC Evening Star Cup, Become an ATC Sponsor P., Tab.com.au H., 3d ATC TAB Sprint 2YO P., TAB Iphone App H., TAB H., TAB Rewards H., Cal Rei H.

Thrilled. 3 wins to 1300m, A$105,790, HK$82,800, ATC Australian Turf Club H.

Exultation. Placed in Aust. Dam of-

Fanfaron. 2 wins at 1350m, 1400m, A$75,660, ATC Theraces H., 3d ATC Hyland Race Colours 2YO H., Tab.com.au P.

3rd dam

ANGELIC SMILE, by Dehere. Winner at 1050m, 4th VRC Shamrock Travel H., L. Sister to RUSSIAN CARAVAN (dam of TE RUX - FELIZMASTER (MAC.)), half-sister to CUSTARD (dam of SERENE MAJESTY, CURDLED). Dam of 11 foals, 9 to race, 8 winners, inc:-

FRAVASHI (Falbrav). 5 wins-3 at 2-at 1200m, 1400m, £6,094, A$529,050, 763,600Dhs, QTC Sires' Produce S., Gr.2, MRC D'Urban S., Gr.2, AJC South Pacific Classic, Gr.3, STC Ruby's Freeway 2YO H., Hawkesbury RC Windsor RSL 2YO H., 2d Meydan Al Quoz Sprint S., Gr.3, MRC Zeditave S., L, 3d QTC TJ Smith Classic, Gr.1, York City of York S., L, 4th MRC Wellington Racing Club S., L.

PURE JOY (Fusaichi Pegasus). 2 wins. See above.

Angel Dancer. 6 wins from 1200m to 1650m, A$119,750, BRC Cascade H., Merry Xmas All H., 2d BRC Moet & Chandon Chairman's Club H.

Long Shorts. 6 wins to 1350m, STC De Bortoli Wines H.

Snitzel Day. 2 wins at 1200m, 1400m, A$103,775, ATC Book Summer Hospitality P., 2d ATC TAB Rewards H.

Sigma. 2 wins at 1100m, 1400m, A$79,200, AJC Cabramatta H., Convention Centre H., 2d STC Theslipper.com.au 2YO H., 3d Canberra Guineas. Sire.

4th dam

Serene Look, by Seattle Dancer. 3 wins-1 at 2-at 1200m, A$78,480, AJC Denis Rowe H., Tom Street H., STC Penshurst RSL H., 2d VRC Royal Hong Kong JC P.H., L, MVRC Crown Lager S., L. Half-sister to Breyani (dam of TARASCON, MISTER MONET). Dam of 11 named foals, all raced, 9 winners, inc:-

RUSSIAN CARAVAN (Dehere). 5 wins-1 at 2-from 1000m to 1600m, A$172,440, SAJC Cinderella S., L, Stuart Crystal S., L, MRC Jack Ingham H., Wynette H., SAJC Clipsal H., 4th MVRC Sunline S., Gr.2, Qld Tatt's RC Winter S., Gr.3. Dam of-

TE RUX - FELIZMASTER (Mac.) (Stratum). 9 wins to 1400m in Aust. and Macau, Macau Chairman's Challenge Cup, L, Jockeys Challenge Bowl, 2d Macau Sprint Trophy, L.

CUSTARD (Lonhro). Winner at 2, SAJC Oaklands P., L, 2d MRC Cardinia 2YO H., The Journal 2YO H., 3d SAJC Allan Scott Park Morphettville H., McGees Property H. Dam of-

SERENE MAJESTY (Fastnet Rock). 3 wins to 1400m, A$483,375, MRC Thoroughbred Club S., Gr.3, Scone RC Inglis 3YO Guineas, L, ATC Tab.com.au P., 3d Scone RC Dark Jewel Classic, Gr.3, Hawkesbury Guineas, Gr.3, ATC South Pacific Classic, L, MVRC William Crockett S., L.

CURDLED (All Too Hard). 3 wins-1 at 2-at 1200m, 1350m, A$221,200, to 2018-19, Qld Tatt's RC Winning Edge S., L, BRC Canadian Club H., Ipswich TC Follow ITC at Ipswichturfclub P., 2d ATC Membership H., Ascot Restaurant Sale H.