Price:$2,500 + GST (2.5%)
Incentives: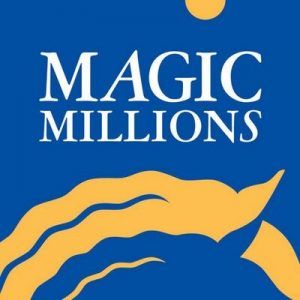 RACE SERIES
Eligible for $10.25 million Gold Coast raceday for duration of career (races programmed for 2YOs & Up from 1000m-2200m)
BOBS INCENTIVE SCHEME
> $20k bonus on each win as a 2YO & 3YO on NSW racetracks
> More than $141 million in bonuses paid out to date
"This is a horse built for speed and gives the impression he'll be up and running early. We've had a lot of luck sourcing these sorts of horses from the Adelaide Sale – namely PRIVATE EYE and INVINCIANO."
Key factors
Sire – SUPER ONE
Undefeated champion 2YO in Singapore & Group winner in Australia
Fastest son of Australia's reigning champion sire I AM INVINCIBLE
Top 5 second season sire
Dam – THE COPPER SUN
2YO winner on debut
Full-sister to stakes winner IN CAHOOTS, defeated CHAUTAUQUA at level weights
Only foal to race, FLINDERS RIVER (by FIGHTING SUN), has won Saturday races at Caulfield & Morphettville
GREY COLT (AUS)

Foaled 3rd October 2019

---

| | | | |
| --- | --- | --- | --- |
| Sire | I Am Invincible | Invincible Spirit | Green Desert |
| SUPER ONE (AUS) | | Cannarelle | Canny Lad |
| 2012 | Tails Wins | Tale of the Cat | Storm Cat |
| | | Multiple Wins | Sea Salute |
| Dam | Bradbury's Luck | Redoute's Choice | Danehill |
| THE COPPER SUN (AUS) | | Skating | At Talaq |
| 2009 | Hot Copper | Rory's Jester | Crown Jester |
| | | Petite Amour | Prego |

---

SUPER ONE (AUS) (Bay 2012-Stud 2016). 5 wins to 1200m, SAJC DC McKay S., Gr.3. Half-brother to SP Super Too. Sire of 83 rnrs, 30 wnrs, inc. SP One Lotto and of Miss Divine Em, Another One, Gluck Racer, Alpha Go, Embeller, Martini Special, Bedazzle, La Jolie Fille, Lucky Shadow, One Aye, Satine, Shadow Chaser, Superbellaa, Superstasia, Wish Afan a Star, Kinky Dreams, Super Riff, The Kewess, Trinity Missile, Chuisle, Ciao Uno, Everyone, etc. His oldest progeny are 3YOs.

1st dam

THE COPPER SUN, by Bradbury's Luck. Winner at 2 in Aust. Sister to IN CAHOOTS. This is her third live foal. Her second foal is a 2YO. Dam of one foal to race-

Flinders River (g. by Fighting Sun). 2 wins at 2, A$158,250, in 2019-20, MRC VOBIS 2YO Gold Ingot, SAJC Holdfast Insurance 2YO P., 3d MVRC Antler Luggage 2YO P., VRC Grinders Coffee Roasters H.

2nd dam

HOT COPPER, by Rory's Jester. Winner at 1000m in Aust. Half-sister to Mystic Force, Mystic Glow. Dam of 7 foals, 6 to race, 5 winners, inc:-

IN CAHOOTS (Bradbury's Luck). 5 wins-1 at 2-to 1200m, A$417,000, MRC Italktravel S., L, Gosford Guineas, L, 2d ATC Show County H., Gr.3, MRC Testa Rossa S., L, ATC Fonterra Foodservice 2YO H., 3d ATC Royal Sovereign S., Gr.2, VRC Tab.com.au S., Gr.2, Bobbie Lewis H., Gr.3.

Camouflage. 5 wins at 1200m, 71,954Rgt., S$213,030 in Malaysia and Singapore, Singapore TC Progress H., Abundance S., Penang Turf Club Trophy Novice H., 2d Selangor TC International Racing Carnival Metro S., Singapore TC Novice H., Class 3 H., 3d Singapore TC Class 3 H.-twice.

King of Comedy. 3 wins to 1400m in Aust.

Seorin. 2 wins at 1000m in Korea.

The Copper Sun. Winner. See above.

Burnin' Love. Placed in Aust.

3rd dam

PETITE AMOUR, by Prego. 10 wins to 1300m, A$258,480, WATC Winterbottom S., Gr.2, VATC Schillaci S., Gr.3, WW Cockram S., L, WATC Farnley S., L, Birthday S., L, Belmont Newmarket H., L, Romulus H., Rentokil Pest Control H., Tiara H., 2d WATC Lee Steere S., Gr.2, Sheila Gwynne S., L, VATC Red Terror H., 3d WATC Prince of Wales S., Gr.3, RS Crawford S., L, 4th VATC Oakleigh P., Gr.1, VRC Hardy Brothers Prelude S., L. Half-sister to GOD'S WONDER. Dam of 8 foals, 7 to race, 5 winners, inc:-

Mystic Force (Brocco). 4 wins from 1200m to 2200m, WATC Singapore Turf Club Trophy H., Intercontinental H., 2d WATC TJ Smith Trophy, L, Budget Business Club H.

Mystic Glow (Brocco). 3 wins from 1200m to 1650m, WATC Napoleon Perdis H., Limitless H., Sandy's Pleasure H., 3d WATC Natasha Trophy, L, Ascot One Thousand Guineas, Hahn Premium H., Selangor Turf Club Trophy H., Healthy Food Fast H., Philomel H., 4th WATC Champion Fillies S., Gr.3. Dam of-

Secret Glow. 5 wins from 1000m to 1750m, A$76,167, 2d WATC Westspeed H.

Serene Dancer. 6 wins to 1300m in Aust.

Special Amour. Winner at 1200m in Aust.

Hot Copper. Winner. See above.

Harper Valley. Placed in Aust. Dam of-

Lady Satab. 7 wins from 1300m to 1600m, A$111,530, to 2020-21 in Aust.

Petite Belle. Unraced. Dam of-

Delta Belle. 2 wins at 2000m, 2100m, WATC Schweppes H., 3d WATC Free Entry to Belmont Park P.

Petite Charm. Winner at 1200m, 3d WATC Mt Hallowell Stud P.

4th dam

IT'S A WONDER, by Kaoru Star. 4 wins to 1200m, WATC Asthma Foundation Sprint H., SAJC Makapura H., Graduation S., 2d SAJC Tasman H., Newbury H. Sister to Star of Babylon (dam of MR BARTS). Dam of 7 foals, all raced, 5 winners, inc:-

PETITE AMOUR (Prego). 10 wins. See above.

GOD'S WONDER (Godswalk). 2 wins at 2, WATC Queen's P., Gr.3, QTC MacLeay 2YO H., 2d WATC La Trice Quality Sprint H., 3d WATC Gimcrack S., L. Producer.

5th dam

NEW BABYLON, by King of Babylon. 4 wins at 900m, 1000m in Aust. Half-sister to M'Lady Quinalot (dam of M'LADY'S JEWEL). Dam of 6 foals, 5 to race, 2 winners, inc:-

Star of Babylon. Unraced. Dam of-

MR BARTS (Estaminet). 9 wins from 1400m to 2000m, SAJC John D Lee S., L, HMCS Protector H., Galway Pipe Port H., Valerius H., Life's Magic H., 2d SAJC City of Adelaide H., L, Caliente H., 3d SAJC Brahms Lullaby Welter H.