Trainer: Steve O'Dea & Matt Hoysted
Price:$6,227.27 + GST (2.5%)
Incentives: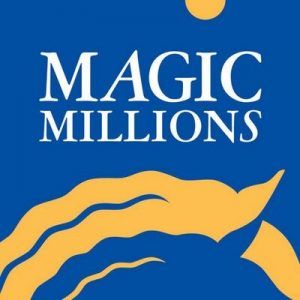 RACE SERIES
Eligible for $10.25 million Gold Coast raceday for duration of career (races programmed for 2YOs & Up from 1000m-2200m)
QTIS INCENTIVE SCHEME
> Earn up to $80k for winning a Saturday metropolitan race (equivalent to Group 3 prizemoney)
> Receive up to $100k in bonuses on black type wins
> More than $2.5 million worth of prizemoney in races exclusive to QTIS horses
"This is a colt that we thought was more refined and athletic than other foals out of this mare, which is a good sign considering she's thrown BOOMSARA! This is a cross that works."
"This is the third SPIRIT OF BOOM foal out of PASSARA and we've sent the mare back to SPIRIT OF BOOM since so I think that just shows the faith we have in this mating which has already been vindicated by BOOMSARA."
Key factors
Sire – SPIRIT OF BOOM
Dual Group 1 winning sprinter and stakes winning 2YO with durability (raced 52 times for earnings of $2.4 million)
Champion first season sire who produced five individual stakes winning 2YOs from first crop (more than any stallion since EXCEED AND EXCEL in 2008)
Champion QLD sire for three years running
Progeny includes JONKER, PRINCE OF BOOM, BOOMSARA, OUTBACK BARBIE, EF TROOP, etc
Dam – PASSARA
Thrown five winners from five foals to race, including two-full brothers – multiple stakes winner BOOMSARA ($1.7 million prizemoney) and 2YO debut winner STRIKE
Half-sister to two stakes winners including the dam of another millionaire in CHAPTER AND VERSE
Closely related to promising youngster MIAMI FLEISS
Breeders Eureka Stud have retained a significant share of this foal
Nicks
SPIRIT OF BOOM x TSUIMAI cross = 2 winners from 3 starters ($1.8m+ prizemoney)
BAY COLT (AUS)

Foaled 9th October 2019

---

| | | | |
| --- | --- | --- | --- |
| Sire | Sequalo | Rustic Amber | Thatching |
| SPIRIT OF BOOM (AUS) | | Dash Around | Bending Away |
| 2007 | Temple Spirit | Special Dane | Danehill |
| | | Temple Top | Semipalatinsk |
| Dam | Tsuimai | Thunder Gulch | Gulch |
| PASSARA (AUS) | | Triscay | Marscay |
| 2006 | Freebird | Bluebird | Storm Bird |
| | | Trendsetter | Without Fear |

---

SPIRIT OF BOOM (AUS) (Bay 2007-Stud 2014). 9 wins-3 at 2-to 1400m, BRC Doomben Ten Thousand S., Gr.1. Sire of 276 rnrs, 184 wnrs, 12 SW, inc. Boomsara (BRC Vo Rogue P., Gr.3), Spirits Aubeer - The Hulk (H.K.), Outback Barbie, Ef Troop, Jonker, Champagne Boom, Perudo, Sugar Boom, Frangipani Moon, Heaven's Deal, Jami Lady, Kinky Boom, SP Tick Tock Boom, Boom Daddy, Bribery, Mass Destruction, The Brumby, Boomstress, Boomtown Lass, etc.

1st dam

PASSARA, by Tsuimai. Placed at 3, 2d BRC Channel 7 P. Half-sister to McCloud, McFly (dam of CHAPTER AND VERSE). This is her seventh foal. Her sixth foal is a 2YO. Dam of five foals to race, all winners-

BOOMSARA (g. by Spirit of Boom). 4 wins-2 at 2-to 1400m, A$1,635,925, BRC Vo Rogue P., Gr.3, GCTC Magic Millions Guineas, RL, Jewel 2YO S., Ubet Rewards 2YO P., 2d GCTC Ken Russell Memorial Classic, Gr.3, Ipswich TC Eye Liner S., L, BRC National Storage Rupert P., 3d BRC Sires' Produce S., Gr.2, George Moore S., Gr.3, 4th Clarence River JC Ramornie H., L.

Sarisara (f. by Red Dazzler). 5 wins-2 at 2-to 1200m, A$258,000, BRC Powerade 2YO H., Ray Himstedt 80th Birthday 2YO H., Outback Qld Tourism H., Toowoomba TC Wellcamp Airport H., 2d Toowoomba TC Brisbane Bloodstock Hopeful 2YO P., 3d GCTC Silk Stocking H., L, BRC SQS Haulage H., 4th GCTC Ken Russell Memorial Classic, Gr.3. Dam of-

Sakura Star. 2 wins at 1100m in 2020-21, Ipswich TC Barn Family Restaurant P., 2d BRC Girls Day Out H., 3d BRC Kingston Town Club H., Lexus 2YO P.

Strike (g. by Spirit of Boom). Winner at 2, A$78,150, in 2019-20, BRC Ingredior 2YO H.

Red Wayne (g. by Red Dazzler). 2 wins-1 at 2-at 1200m, 3d GCTC XXXX Summer 2YO P.

Redsera (g. by Red Dazzler). Winner at 1700m, 2d BRC James Boags Premium P.

2nd dam

FREEBIRD, by Bluebird. Placed, 2d SAJC Wednesday H., Vo Rogue H., 3d SAJC Tuesday H., Pacific Gaming H. Dam of 9 named foals, all raced, 6 winners, inc:-

McFly (Perugino). 5 wins-2 at 2-to 1300m, A$173,570, MVRC Thoroughbred Breeders Victoria P., SAJC Club TAB at Lucky Horseshoe 2YO H., VRC Lara H., SAJC Master Builders H., 2d MRC Alan Currie 2YO H., SAJC German Arms Hotel H., 3d VRC Red Roses S., L, MVRC Ashley's Foresters Arms Hotel H., 4th MRC Twilight Glow S., L, SAJC Oaklands P., L. Dam of-

CHAPTER AND VERSE (Rothesay). 6 wins to 1300m, A$1,044,700, to 2019-20, BRC George Moore S., Gr.3, GCTC Magic Millions H., BRC Metricon P., SCTC Render Centre P., 2d Qld Tatt's RC Singapore Airlines P., BRC Team-Australia Group H., SCTC RPS H., BRC Inglis Premier Sale H., Cascade H., 3d BRC Lough Neagh S., L, Ipswich TC Eye Liner S., L, SCTC Glasshouse H., L, Ipswich TC Schweppes P., 4th BRC Sprint H., Gr.3, BRC Lough Neagh S., L, Keith Noud H., L, Ascot H., L, GCTC Goldmarket H., L.

Soaring Heart (Show a Heart). 2 wins at 2, A$170,350, BRC Duporth Tavern 2YO H., Ipswich TC Free Family Fun Day 2YO P., 2d Qld Tatt's RC Winning Edge S., L, SCTC Coastline BMW 3 Series.

Madame Fly. 2 wins-1 at 2-at 1000m, ATC Vili's Pies 2YO P. Dam of-

Cochrane (Spirit of Boom). Placed at 2 in 2020-21, 2d BRC Phelan Ready S., L.

Miami Fleiss. 2 wins at 1000m, 1200m, A$110,400, in 2020-21, BRC Membership H.

McCloud (Jeune). 4 wins from 1950m to 3000m, A$113,395, SAJC Allan Scott Park Morphettville H., MVRC Charlottown H., 2d SAJC Port Adelaide Cup, L, Geelong Classic, L, SAJC Carlton Draught Distance H.

McBeal. 10 wins-1 at 2-from 1050m to 2000m, A$229,665, VRC Labour Day H., MRC Redcraze H., Helenslea H., VRC Magnifique H., SAJC Cathy Jayne Developments H., We're Smoke-Free H., VATC Richfield Lady H., Chaise H., 2d VRC Young Members H., SAJC Ancor Australia H., 3d VATC Mills Harding H., SAJC Yellow Cabs H., 4th VRC Bolle S., L, SAJC Classic Mile, L. Producer.

Lots of Success. 7 wins-1 at 2-to 1400m, A$130,690, 2d BTC Alf Said The Good Guys 2YO H., QTC Members' Bar H., Knave H., 4th BTC Golden S., L. Producer.

Piccolo Latte. 4 wins to 1400m, 3d QTC Anchor In 3YO H.

3rd dam

TRENDSETTER, by Without Fear. 4 wins to 1400m, VATC Carinya H., SAJC How Now H., 3d SAJC Kaurna Plains H., Rose of Summer H., Eastern Court S. Half-sister to MOUNT OLYMPUS, Scentessa (dam of LIGHT OF SUCCESS). Dam of 6 named foals, 3 to race, inc:-

Trendy Princess. Winner at 1400m in China.