Trainer: Steve O'Dea & Matt Hoysted
Price:$3,409.09 + GST (2.5%)
Incentives: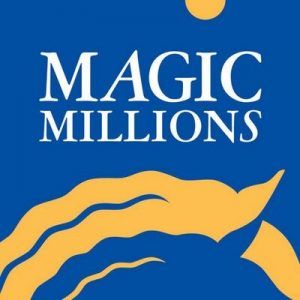 RACE SERIES
Eligible for $10.25 million Gold Coast raceday for duration of career (races programmed for 2YOs & Up from 1000m-2200m)
QTIS INCENTIVE SCHEME
> Earn up to $80k for winning a Saturday metropolitan race (equivalent to Group 3 prizemoney)
> Receive up to $100k in bonuses on black type wins
> More than $2.5 million worth of prizemoney in races exclusive to QTIS horses
"A colt with good size and scope. He's out of a Group 2 winning mare who's already produced a stakes winner at stud!" 
Key factors
Sire – SPIRIT OF BOOM
Dual Group 1 winning sprinter and stakes winning 2YO with

durability

(raced 52 times for earnings of $2.4 million)
Champion first season sire who produced five individual stakes winning 2YOs from first crop (more than any stallion since EXCEED AND EXCEL in 2008)
Reigning champion QLD sire for two years running
Service fee has increased five-fold; from $11,000 to $55,000
Progeny includes JONKER, BOOMSARA, OUTBACK BARBIE, EF TROOP, etc
Dam – BELONG TO MANY
High class racemare who won 8 times, including 4 at stakes level
All three foals to race are winners, including 3 x stakes winner NATIVE SOLDIER
BELONG TO ME has an elite strike rate of producing stakes winners as a broodmare sire – 10.5% 
Nicks
SPIRIT OF BOOM x DANZIG sireline cross = 5 winners from 7 starters
BAY COLT (AUS)

Foaled 11th September 2019

---

| | | | |
| --- | --- | --- | --- |
| Sire | Sequalo | Rustic Amber | Thatching |
| SPIRIT OF BOOM (AUS) | | Dash Around | Bending Away |
| 2007 | Temple Spirit | Special Dane | Danehill |
| | | Temple Top | Semipalatinsk |
| Dam | Belong to Me | Danzig | Northern Dancer |
| BELONG TO MANY (AUS) | | Belonging | Exclusive Native |
| 2003 | Foiled | Snippets | Lunchtime |
| | | Regal Blade | Steel Blade |

---

SPIRIT OF BOOM (AUS) (Bay 2007-Stud 2014). 9 wins-3 at 2-to 1400m, BRC Doomben Ten Thousand S., Gr.1. Sire of 276 rnrs, 184 wnrs, 12 SW, inc. Boomsara (BRC Vo Rogue P., Gr.3), Spirits Aubeer - The Hulk (H.K.), Outback Barbie, Ef Troop, Jonker, Champagne Boom, Perudo, Sugar Boom, Frangipani Moon, Heaven's Deal, Jami Lady, Kinky Boom, SP Tick Tock Boom, Boom Daddy, Bribery, Mass Destruction, The Brumby, Boomstress, Boomtown Lass, etc.

1st dam

BELONG TO MANY, by Belong to Me. 8 wins-1 at 2-at 1100m, 1200m, A$575,310, AJC Sapphire S., Gr.2, Wenona Girl H., L, MRC Le Tan S., L, GCTC Silk Stocking H., L, MVRC Windsor Management H., AJC Countdown to Easter Carnival H., STC Stitches & Craft Show H., 2d AJC Breeders Classic, Gr.2, Sapphire S., Gr.2, STC Birthday Card S., Gr.3, BTC Glenlogan Park S., L, STC Starlight S., L, AJC Kay Sprint H., STC Escape to the Races H., Wild Wild West Marquee 2YO H., De Bortoli Wines H., MVRC Hydro Australia H., 3d STC Millie Fox S., Gr.3, AJC Equal H. Half-sister to PRISE DE FER. This is her seventh live foal. Dam of six named foals, three to race, all winners, inc:-

NATIVE SOLDIER (c. by Sepoy). 5 wins-2 at 2-to 1400m, A$363,350, MRC Caulfield Guineas Prelude, Gr.3, HDF McNeil S., Gr.3, Christmas S., L, MVRC Turf Legends Board Game 2YO P., 3d MRC Blue Diamond Prelude (c&g), Gr.3, Vain S., Gr.3.

Majestic Lass (f. by Redoute's Choice). 3 wins at 1200m, A$107,125, MRC ACJC Racing 101 H., MVRC Simpson Construction P., 2d MRC Timothy Rourke H.

Siege Warfare (g. by Sepoy). 3 wins at 1000m, A$84,280, to 2020-21 in Aust.

Ready to Belong (f. by More Than Ready). Unraced. Dam of-

Spirit House. 2 wins at 1000m, 1100m to 2020-21, 2d Ipswich TC Under the Louvre at Grandview H.

2nd dam

FOILED, by Snippets. Unraced. Half-sister to SWORD. Dam of 8 named foals, all raced, 4 winners, inc:-

BELONG TO MANY (Belong to Me). 8 wins. See above.

PRISE DE FER (Savabeel). 7 wins from 1400m to 1800m, NZ$312,675, to 2020-21, ARC Rich Hill Mile, Gr.2, Taranaki Cup, Gr.3, ARC Henley Park H., Dunstan Qualifier H., Counties RC Dunstan Horse Feeds H., 2d Otaki Maori RC WFA S., Gr.1, Manawatu RC Awapuni Gold Cup, Gr.2, Waikato RC J Swap Contractors Sprint H., Gr.3, ARC Monstavision H., 3d Waikato RC Foxbridge P., Gr.2.

Thwarted. 4 wins from 900m to 1600m in Aust.

Our Cougette. Winner at 1000m in Aust. Dam of-

King Kabuto. 3 wins to 1450m, A$92,570, SAJC Teys Australia H., 2d MVRC PKF H.

Tadashi Hamada. Winner at 1450m in 2020-21 in Aust.

Epee. Placed at 3 in NZ.

Gunhilda. Placed at 2, 2d ATC Zetland 2YO H., 3d ATC Grand Pavilion 2YO H.

Foilissio. Unplaced. Dam of-

Star of Zizou. 5 wins-1 at 2-to 1100m, A$99,410 in Aust.

3rd dam

REGAL BLADE, by Steel Blade. 5 wins-1 at 2-at 1000m, 1100m in Aust. Half-sister to Christer. Dam of 8 named foals, 4 to race, all winners, inc:-

SWORD (Switch in Time). 12 wins-4 at 2-to 1200m, A$558,287, SAJC Goodwood H., Gr.1, Angas Brut Classic S., Gr.2, VATC Chirnside S., Gr.3, City Tatt's RC Lightning H., L, AJC Gallipoli Flying Welter H., STC Lowest Quality H., AWA Gaming & Wagering Welter H., SAJC KPMG Peat Marwick H., STC Christmas Giveaway Day 2YO H., Parramatta Leagues Club 2YO H., Rotary Community Service 2YO H., 2d VRC Salinger S., Gr.1, AJC Shorts H., Gr.3, Function Centre H., Bendigo JC Sandhurst Classic H., 3d AJC Brian Crowley S., L, STC Farnworth Welter H., Citius Welter H., 4th VRC Victoria Racing Club S., Gr.3, Hilton on the Park Sprint H., L.

Somethin' Sharp. 5 wins to 1200m, STC Regal Gauntlet H., Glebe H., Lakemba H.

Time to Switch. 4 wins-2 at 2-to 1200m, QTC Balciano H., 2d AJC Tooheys H., GCTC Hayman's Electrical H. Producer.

4th dam

CHRISJOVID, by Princely Son. 4 wins at 2 in Aust. Dam of 6 foals, 5 to race, 4 winners, inc:-

Christer (Mister C). 4 wins-1 at 2-at 1000m, 1100m, A$103,020, AJC Grey Receiver H., STC Cumberoona 2YO H., 2d AJC Challenge S., Gr.2, BATC Janbak Industries H., 3d NSW Tatt's RC Carrington S., L, AJC Dark Jewel H., BATC Racing Expo H., STC Port Jackson Flying Welter H., Limerick Junction H., 4th QTC Lightning H., Gr.3. Producer.