Price:$1,863.6 + GST (2.5%) OR 5 interest-free payments of $410
Incentives:
New Payment Option
Pay off your share in 5 interest free installments! VISA & Mastercard accepted.

LADIES ONLY SYNDICATE
Race for a $750k bonus in the Magic Millions 2YO Classic & 3YO Guineas!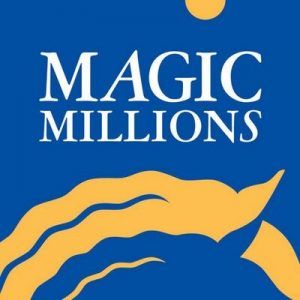 RACE SERIES
Eligible for $10.25 million Gold Coast raceday for duration of career (races programmed for 2YOs & Up from 1000m-2200m)
BOBS INCENTIVE SCHEME
> $20k bonus on each win as a 2YO & 3YO on NSW racetracks
> More than $141 million in bonuses paid out to date
> Trainer Steve O'Dea has a career winning strike rate of 31% when travelling horses to NSW
We were impressed by the Extreme Choice progeny when we visited the Hunter Valley studs. This filly has everything we liked about them, she's well balanced with a great walk. Looks a real 2yo!
I am very happy with the feel this filly gives me, while she is a little immature I am really happy with her progress. She is very straight forward, honest and just a lovely going filly. 
Key factors
Dam has had 6 foals to race – all winners, including WILD HEART – winner of 2017 Wyong Magic Millions 3 & 4YO Stakes
American-bred mares have thrown 31 Group 1 winners since the start of 2018-19 season.
Breaking-in phase JAN 2020
Stable orientation MAY 2020
EXTREME CHOICE sire profile
CHESTNUT FILLY (AUS)

Foaled 3rd September 2018

---

| | | | |
| --- | --- | --- | --- |
| Sire | Not a Single Doubt | Redoute's Choice | Danehill |
| EXTREME CHOICE (AUS) | | Singles Bar | Rory's Jester |
| 2013 | Extremely | Hussonet | Mr. Prospector |
| | | Going to Extremes | Nasty and Bold |
| Dam | Forestry | Storm Cat | Storm Bird |
| WILDLY ENTERTAINED (USA) | | Shared Interest | Pleasant Colony |
| 2001 | I'm No Pussycat | Valdez | Exclusive Native |
| | | Sharp Kitty | Blade |

---

EXTREME CHOICE (AUS) (Chestnut 2013-Stud 2017). 4 wins-3 at 2-at 1000m, 1200m, A$1,736,250, MRC Blue Diamond S., Gr.1, MVRC AJ Moir S., Gr.1, MRC Chairman's S., Gr.3, ATC Inglis Nursery, RL, 3d MRC Oakleigh P., Gr.1. Brother to SP Raise No Doubt (3d Singapore TC Garden City Trophy, L). Grandson of SW Going to Extremes (Woodbine Royal North H., L). Same family as SW Fleet Shoe, SW Eastern Rise, etc. His oldest progeny are yearlings.

1st dam

WILDLY ENTERTAINED, by Forestry. Unraced. Half-sister to SOVEREIGN KITTY, Run Like Martha (dam of BIRDRUN). This is her ninth foal. Dam of seven foals to race, six winners, inc:-

Wild Heart - Hinchinlove (H.K.) (g. by Hinchinbrook). 3 wins-1 at 2-at 1200m, A$150,925, HK$2,594,975, to 2019-20, Wyong Magic Millions S., ATC TAB Rewards 2YO H., HKJC Hoi Yuen H., 2d MRC Zeditave S., Gr.3, HKJC Lord Kanaloa H., 3d ATC Fresh for Kids H., HKJC Verbena H., Po Yan H., Lei Yue Mun H.

Was Meant to Be (f. by Kitten's Joy). 3 wins to 1400m, A$107,425, 2d ATC One Solutions H., Pro-Ride H., 3d ATC TAB Quaddie H.

Two Penny Blue (f. by Zizou). 5 wins to 1400m, A$79,200 in Aust.

Campfire (g. by Zizou). 4 wins to 1400m in Aust.

Bandolier (g. by Thunder Gulch). 3 wins at 1m, 8¼f in U.S.A.

Bartolucci (g. by Yonaguska). 2 wins at 1m in U.S.A.

2nd dam

I'M NO PUSSYCAT, by Valdez. Unplaced. Half-sister to FAMILY STYLE (dam of POLISH STYLE), LOST KITTY, Sharp Kitty's Cat. Dam of 14 foals, 13 to race, 11 winners, inc:-

SOVEREIGN KITTY (Sovereign Dancer). 6 wins-3 at 2-from 7f to 9f, US$458,704, Philadelphia Park Cotillion H., Gr.2, Aqueduct Tempted S., Gr.3, Allowance, Belmont Allowance, Saratoga Allowance, 2d Aqueduct Demoiselle S., Gr.2, Belmont Cicada S., L, 3d Belmont Acorn S., Gr.1, Matron S., Gr.1, Gazelle H., Gr.1, Saratoga Alabama S., Gr.1, Coaching Club American Oaks, Gr.1, Gulfstream Park Joe Namath H., Gr.3, 4th Belmont Frizette S., Gr.1. Dam of-

Noble Gesture (Thunder Gulch). 4 wins at 1m, 8¼f, 2d Mountaineer Park Autumn Leaves S., L. Producer.

Tomisue's Mamaloi. Raced twice. Dam of-

THOR'S DAUGHTER (Tiznow). 4 wins from 5½f to 8¼f, Mountaineer Park Ohio Valley H., L. Producer.

Mr. Handsome (Rock Hard Ten). 9 wins-1 at 2-from 6f to 8½f, US$310,902, 2d Charles Town Robert Hilton Memorial S., L, 3d Charles Town Red Legend S., L, Pimlico James W Murphy S., L.

Run Like Martha. 4 wins to 7f in U.S.A. Dam of-

BIRDRUN (Birdstone). 7 wins from 1m to 1½m, US$622,816, Belmont Brooklyn H., Gr.2, Parx Racing Greenwood Cup, L, Calder Carl G Rose Classic H., L, Belmont Allowance, 2d Breeders' Cup Marathon S., Gr.2, Belmont Milesius S., L, One Count S., L, 3d Belmont Albert the Great S., L. Sire.

Seattle Kitty. Winner at 8¼f in U.S.A. Dam of-

He Ain't Right (Cuvee). 8 wins-1 at 2-to 6½f, 2d Presque Isle Downs Tom Ridge S., L, 3d Turfway Park Hansel S., L.

Soul of the Cat (Stravinsky). Winner at 7f, 3d Gulfstream Park Via Borghese S., L. Producer.

Pulcinella. Unraced. Dam of-

Thisismystage (Theatrical). 2 wins at 8½f, 1¼m, 3d Del Mar CTT & Thoroughbred Owners of California H., L.

Mine All Mine (Belong to Me). 2 wins-1 at 2-at 4½f, 5½f, 2d Calder Snurb S., L. Dam of-

ATHENS QUEEN (Majestic Warrior). 2 wins at 2, Belmont Astoria S., L.

Indianella. Raced once. Dam of-

Gordy Florida (Cactus Ridge). 4 wins-2 at 2-at 5½f, 6f, US$229,070, 2d Oaklawn Park Smarty Jones S., L, 3d Oaklawn Park King Cotton S., L, 4th Prairie Meadows Ed Skinner S., L.

Tosha Talifero (Cactus Ridge). 4 wins at 6f, 3d Oaklawn Park Pippin S., L.

Northern Kitten. Winner in U.S.A. Dam of-

Halo's Tiger (Halo's Image). 19 wins from 6f to 8¼f, US$500,218, 2d Remington Park Chuck Taliaferro Memorial S., L, 4th Zia Park Premiere S., L, Arlington Park Cigar S., L.

Stormy Kitty (Stormy Atlantic). 4 wins from 6f to 8½f, 3d Calder Golden Pond S., L. Dam of-

Saluting Stormye (Roman Ruler). 3 wins to 7f, 3d Fair Grounds Black Gold S., L.